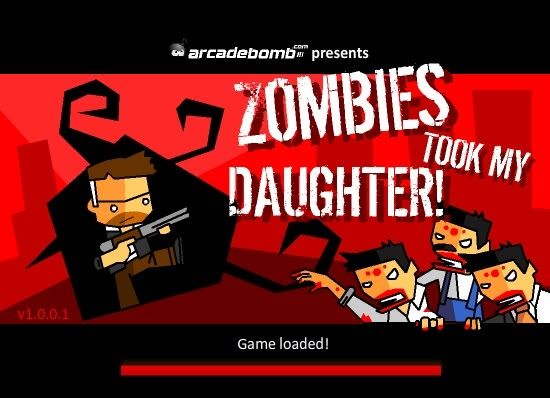 Zombies! As I've mentioned time and time again, I love 'em. While vampires sparkle and wolfmen lose their teeth, zombies amble on regardless, as cool today as they were when George A Romero popularised the modern zombie flick. So a game called
Zombies Took My Daughter
really can't fail to entertain, and thankfully it does just that.
Your daughter Anna is trapped somewhere in an infected city. Mutated ghouls roam the streets; you've got 36 hours to search for Anna and get her to safety. One of the coolest things about Zombies Took My Daughter is that the game map randomly changes every time you play, so you never experience the same levels twice. It also means that, no matter how experience you gain, there'll always be new surprises and challenges waiting for you.
The game features an abundance of mêlée weapons and firearms. While it's always satisfying to cave in a zombie's head with a Ming vase, however, my advice to find a shotgun and keep it fully loaded. The shotguns may not have much range but they make up for it with pure stopping power, taking down numerous ghouls in one shot.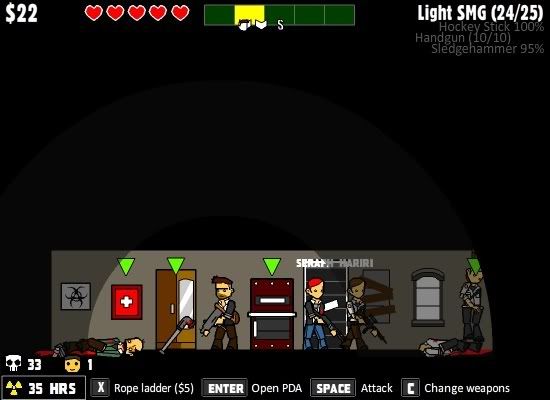 You're not alone in the abandoned city. While the zombies are a given, you can also rescue other survivors, who will then help you clear out an area. This will save you ammo as well as reduce the risk of getting hurt. Dying is something you definitely don't want to do often. Every time you go down for the count, you lose two hours. Considering it can take one or two hours to reach each new destination via the subway system, that's time you can't afford to lose.
Thankfully, there are ways to cut down the search time. Examine dead bodies and you may find evidence of where Anna hasn't been spotted, eliminating numerous spots around town (and making one wonder how Anna got so popular that everyone in the city seemingly knows her.) There are also quests that you can complete, gathering a certain amount of supplies to eliminate a whole block from your search. These supplies aren't always in the easiest to reach spots, but then that's part of the challenge and the reward is definitely worth it if you want to get in and out of the city on time. Convicts are on the loose, and taking them down can earn you money you'll need for rope ladders and energy drinks.
While it's not the prettiest game in the world, Zombies Took My Daughter still has a certain charm. It's the sound effects that really get to you, though - hearing an undead mutant's pig squeal as it tears into your flesh isn't something you'll forget easily. It must be said that there's something very unnerving about watching a gang of zombies race towards you like you were slathered in BBQ sauce and you have only a crowbar with which to defend yourself.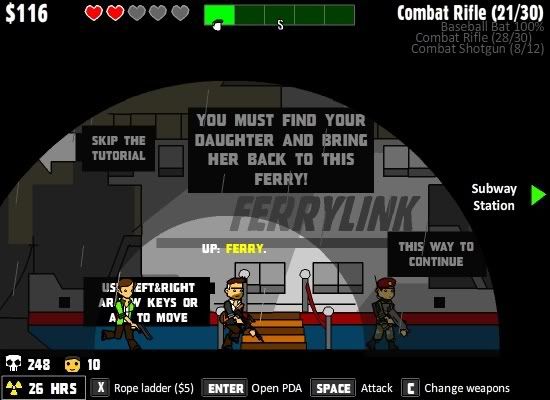 Zombies Took My Daughter is a frighteningly addictive game - hell, I stopped writing this review at one point to have another go at it. If you platformers, shoot-'em-ups, puzzle games or zombies (or all four), then this is the game for you. Grab your hatchet and your AK-47 and take to the streets!